Chapter Eight from Devil Walk: A True Story
By Clint Byars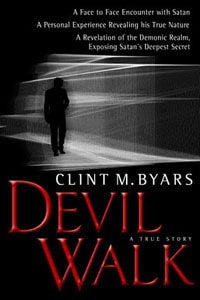 When I asked God to show me the meaning of the phrase "redemption through his blood" in Colossians 1:14, I wasn't prepared for what I was about to see.
I was sitting on my sofa in silence looking directly ahead. After asking God to reveal His Word to me I shut my eyes and laid my head back. At first everything was dark. Then, off in the distance I the saw a faint light on top of what looked like a small mountain. The light was similar to the one I had first seen in the "black hole" of my heart. As I looked closer, I could tell that I was looking at a person. The scene moved closer and got larger as if through the zoom lens of a camera. The closer I got the clearer the vision became. What I saw is etched in my mind forever. To this day I can shut my eyes and visualize that scene as if God had first shown it to me yesterday. Every time I look on that vision in my mind it hits me with the same force it did the first time.
As the vision became crystal clear, I realized that I was looking at Jesus hanging on the cross. I stared in awe at how badly he was disfigured. The flesh of His body was ripped to shreds. There was not a single dry spot on him because He was covered with His own blood. I was not repulsed as much as shocked. The gory scene had a strange attraction for me; I couldn't pull my eyes away but kept staring at every detail of His battered, tortured body. Jesus looked like he had been beaten for days and then hung on the cross like raw meat. His skin was almost completely gone. Huge spikes had been driven through his hands and feet to fasten Him to the cross and I could see where the flesh around those hideous nails had torn from His weight. His hands were ripped almost completely to the top from hanging for so long.
I don't know how long I had been watching Him before I became aware of His tortured, labored breathing. If you have ever heard someone having a severe asthma attack, you have a good idea of how Jesus sounded. He could not take a full breath. Every breath was a painful, wheezing rasp from the fluid that was slowly filling His lungs. With every inhalation His body would lift slightly and then drop violently down as He exhaled. Already I was beginning to understand what God meant that my redemption was in Jesus' blood. I knew that Jesus had saved me, but it was only at this moment that I realized the incredible cost. Never had I imagined that Jesus endured anything like this.
As I continued to stare at Him in awed fascination, I finally noticed His eyes. When I first made eye contact I realized that He had been looking at me the entire time. Even though I was, in a sense, looking back in time, I felt that Jesus could see me. While I considered this, God told me in my heart that Jesus indeed was looking at me. Two thousand years ago, while hanging on that cross, Jesus was thinking of me—and everyone else who would be saved through His death. The Bible doesn't say so, but I like to imagine Jesus thinking specifically about every single person who would ever live.
In that same moment I knew that even if I had been the only person ever to ever live, or the only person who ever needed my sins forgiven, Jesus still would have done this—for me. The same is true for you and for all of us. If you were the only person to be redeemed by what Jesus did on the cross, He still would have endured the pain. That's how great and how deep His love is. He loves you so much that if you were the only person to be saved through His death, He still would have chosen to die!
The more I watched, the more incredible it seemed that Jesus would do this for me. I felt so unworthy but at the same time, so incredibly loved and valued. I squeezed my eyes tighter as blood continued to pour from His body. So much blood came out of Him that it formed a wave that rushed toward me and completely covered me. It not only covered me; it infused into my body. It was as though Jesus' blood was seeping into my body and becoming my blood. I could literally feel His blood in my body.
Made New by the Blood
The Bible says that it is the blood of Jesus that washes away our sins and makes us clean and righteous. This means we no longer have to try to be righteous on our own. If we accept fully what Jesus did on the cross for us, we are completely perfect. When God looks at us, He sees the blood of Jesus. The shedding of blood was a must in the Old Testament for atonement but Jesus' sacrifice was much more precious. His sacrifice was once and for all. There is no going back on what He did. Jesus' death on the cross can never be repeated, nor does it need to be.
After this stunning vision I now knew what Jesus had done for me. I was a new person freed from hell forever. I was a new creature, just as the Bible says:
Therefore if any man be in Christ, he is a new creature: old things are passed away; behold, all things are become new (2 Corinthians 5:17).
I was sinful and Jesus made me perfect. Jesus was perfect and became sin for me.
For he hath made him to be sin for us, who knew no sin; that we might be made the righteousness of God in him (2 Corinthians 5:21).
A Personal Savior
The vision finally faded away but its image will be with me forever. I was still amazed that Jesus had done this for me. I thought about a situation with a friend of mine who had been hurt by the actions of another person and had taken it incredibly personally. All he could say was, "He did that to me…he did that to me. I wouldn't care if it was someone else but he did that to me!" Except for the hurt, I could say the same thing about Jesus. I just kept telling myself, "Jesus did that for me! Jesus did that for me!" I personalized what Jesus had done for me on the cross.
Little did I know the great favor I was doing for myself writing this truth on my heart and making it personal. That was the moment that allowed me to believe for the rest of my life that Jesus died for me. He did it not just because it was His Father's will and not just because He wanted to save the world. More personally, Jesus died on the cross because He wanted to save me, and He still would have done it if it was only for me.
He would have done it for you too. I don't know where you stand with Jesus, but let me ask you this question: "Is Jesus your personal Savior?" You may know Him as your Lord but have you ever really personalized what He did for you? If you haven't, let me suggest that you lay this book down and begin now to visualize Jesus dying for you—just for you. Ask the Lord to help you with this. Make it as personal as possible. See Jesus thinking about you—personally. See Him carrying your sin—personally. See Jesus enduring the punishment for your sin—personally. See Him hanging in agony because of His love for you—personally.
I promise you, if you are struggling with any aspect of your walk with God, this will empower you to live a godly life more than anything else you could ever do. Believing on a personal level what Jesus did for you is the very heart of the gospel.
Jesus not only paid the price for your salvation on the cross, Isaiah also tells us that He took all of our sicknesses and diseases so we can enjoy good health:
4Surely he hath borne our griefs, and carried our sorrows: yet we did esteem him stricken, smitten of God, and afflicted. 5But he was wounded for our transgressions, he was bruised for our iniquities: the chastisement of our peace was upon him; and with his stripes we are healed (Isaiah 53:4-5).
Jesus gave up His perfect nature and became sin for us but He also gave up His perfect health and became our sicknesses. While on the cross, Jesus literally bore the effects of all sickness and disease. This is one of the reasons He was so grotesquely disfigured while hanging on the cross. Isaiah 52:14 says "his visage was so marred more than any man, and his form more than the sons of men."
It wasn't just Jesus' body up there on the cross with its own effects; He was also carrying the sin of the world. God literally poured out His wrath and judgment of all sin on Jesus so we wouldn't have to face it. Jesus was the only human qualified to pay this price because He was perfect.
God desires to have us in His family but to dwell in God's presence, we have to be perfect. I'm not perfect and neither are you. Without Jesus we all stand guilty before God: "For all have sinned, and come short of the glory of God" (Rom. 3:23). When we place our faith in Jesus as our personal Savior, His blood takes away our sin and sets us free: "There is therefore now no condemnation to them which are in Christ Jesus, who walk not after the flesh, but after the Spirit. For the law of the Spirit of life in Christ Jesus hath made me free from the law of sin and death" (Rom. 8:1-2).
Jesus so looked forward to having us as brothers and sisters that He was willing to endure the cross. Hebrews 12:2 tells us that Jesus "for the joy that was set before him endured the cross, despising the shame, and is set down at the right hand of the throne of God."
In Christ, we now have the full righteousness of God: "But now the righteousness of God without the law is manifested, being witnessed by the law and the prophets; Even the righteousness of God which is by faith of Jesus Christ unto all and upon all them that believe" (Rom. 3:21-22).
Accepting Jesus Christ as our Savior gives us new life. The Bible calls it being "born again" or "born from above." Receiving new life makes us new creations in Christ: "Therefore if any man be in Christ, he is a new creature: old things are passed away; behold, all things are become new" (2 Cor. 5:17).
We have taken on Jesus' and are now new creatures and perfect in God's eyes. When God looks at a believer He sees someone as holy and spotless as Jesus. The Bible says that as Jesus is now, so are we in Him. Don't let your Christian faith be only about going to Heaven and nothing more. Search the New Testament, especially the epistles, to find out what God's Word says about our new identity in Christ. Make the cross of Christ real and personal in your life and ask the Lord to empower you to live the kind of life that He has promised you.
Hell is Not God's Choice
"If God loves us so much, why does He send people to hell?" I couldn't begin to count the number of times I've heard this question. On the surface it sounds logical: how could a loving God ever send anyone to as horrible a place as hell? In light of the cross of Christ, there is no doubt that God loves us, so the answer to the hell question must have nothing to do with God's love.
Here's the answer: God does not send anyone to hell. All those who are in hell are there by their own choice as the consequence of their own decision to reject God. The Bible says that hell was created as a place of confinement and judgment for the devil and his angels (see Mt. 25:41). It was never God's intention or choice for any human being to go to hell.
Going to hell has nothing to do with God sending people there. Before I accepted Jesus I knew I was on my way to hell and it had nothing to do with God making a decision. My destiny before Jesus had everything to do with my decisions. God is not some judgmental figure sitting on a throne deciding who will spend eternity with Him and who will spend eternity cut off from Him. God gave each of us a will of our own with which we choose our own destiny. Unfortunately, because of human pride, many people will end up in an eternity cut off from God.
Today it seems inconceivable to me how anyone could reject God, the Father of love and Creator of all that is good for the brief satisfaction of fulfilling their own selfish desires. Yet, that is what happens every second of every day. It's a testimony to the strength of human will and the depth of human pride.  Sometimes, unfortunately, people are turned away from God because of what they see in other people, particularly people who claim to know Jesus.
Jesus commissioned His followers to take His message to the entire world. He asked His immediate disciples to go and make other disciples. Jesus wanted his followers to go and show the same kind of compassion and love that He showed while He was walking the earth.
In the 2000 years since, the church has attempted hundreds if not millions of tactics to reach people with only moderate success. Today, of the 6 billion people on earth less than one-third are Christians. Why is that? How could so many people reject such infinite, perfect love? How could so many people willingly pass into eternity without God? I would like to think that Jesus meets people at the point of death to give them one last chance, but the Bible provides no evidence or support for such an idea. In fact, the Bible says that this life is our only opportunity to come to Christ: "And as it is appointed unto men once to die, but after this the judgment: So Christ was once offered to bear the sins of many; and unto them that look for him shall he appear the second time without sin unto salvation" (Heb. 9:27-28).
Given these statistics, this means that the majority of the world's population is passing into eternity without Jesus. Think of it—most of the people in the world are going to hell! This is alarming! This is tragic! God created a world in perfect harmony and peace so that He could have a family. He knew that it was not truly a family without free will so He gave us that freedom when He created us and on the basis of that freedom God is losing a large portion of His family. Precious human souls are entering hell every second. They are experiencing the same torment except that theirs is all too real and all too eternal. They won't "snap out of it" and get another chance. They will forever be in emotional and physical torment because they didn't accept the love that Jesus expressed to them on the cross.
This doesn't have to be the destiny of the rest of mankind. As Christians we can change the eternal destiny of human souls. We have the power within us through the Holy Spirit to show people the love of God. We can intercept them while they are on their way a destiny that no one desires. But what are we doing to change it? None of us can change the world by ourselves but we can make an impact in the lives of people around us. What are we doing to help our loved ones and friends and neighbors and work colleagues know the love of God and come to Jesus for forgiveness of their sins?
Jesus risked everything to gain us as family members. While His body was in the grave He descended into hell so we wouldn't have to. Are you willing to sacrifice a little comfort in order to change the path of someone close to you? The bible says that it's the goodness of God that brings people to repentance. You don't have to be a scholar or a physicist who can intellectually prove the existence of God. All you have to do is be able to tell people how good God is—how good He has been to you.
Tell them that God is not an angry God ready to strike them down with a lightning bolt but a loving Father who desires a love relationship with them. Tell them that God's wrath against sin is forever satisfied through Jesus' sacrifice on the cross. Now that Jesus has paid the penalty for every soul that has ever lived or ever will live, God's wrath is satisfied. Jesus is the "propitiation" for our sins (see Rom. 3:25, 1 Jn. 2:2; 4:10). Propitiation means, "to allay the anger there of." Jesus' death on the cross satisfied God's holy demand for judgment of sin.
This means that Jesus has already dealt with the righteousness issue. Whenever we talk to people about Jesus, we should focus not on what they need to do but on what He has already done. I firmly believe that many of the people who have passed into eternity without God would have chosen God had they heard the truth about His love and how it was demonstrated so dramatically and so completely at the cross.
I cannot stress enough that God is not some mean old tyrant who zaps people into hell for not obeying him. The truth is that if our soul is not regenerated in righteousness through Jesus, we cannot coexist with a righteous and holy God. It's as simple as light and dark. Darkness cannot coexist with light. If a human soul has not received the light of Jesus, it cannot be in the presence of God who is true light. The only way we can live in and enjoy God's presence is for our sin to be removed and replaced with righteousness, and the only way that can happen is through faith in Christ for the cleansing of our sins by His blood.
Again I ask, what will you do to ensure that the people around you will not pass into eternity without knowing the truth about what Jesus did for them on the cross? We have the power of the Holy Spirit working in us but it's up to us to act on that power and let Him work through us. We can either let the power of God work through us or we can squelch it. The choice is ours, and we decide every day in one way or another.
I realize that is a bold statement but think about it for a minute. If God didn't work through us, then why wouldn't He just come down and save everyone? The answer comes back to free will. The Bible says that God has been revealed to everyone. No one has an excuse. No one will go into eternity saying that they didn't hear about God because nature itself points to the existence of God. This doesn't mean that we shouldn't be an influence in addition to what God has revealed; it just means that everyone knows about God. No matter how vehemently someone insists that he doesn't believe in God, the Bible states that God has been revealed to every man.
This encourages me because it means I have something to work with. I don't have to persuade someone of God's love. All I have to do is help them connect to what has already been revealed to them. The truth is already in everyone; we just get to take part in helping people uncover the truth that is already there. I'm not saying that everyone is already saved or will be saved. I'm just saying that deep down every man, woman and child already knows that God is real. This is God's way of giving us the decision and why we are accountable to Him for it.
God is not in Heaven busily deciding who will be His children and who won't. He has already revealed Himself to everyone and it is up to us who know Him to help people connect with that no matter how deeply they may have suppressed it. What will you do to help people discover the truth already in them? What will you do to ensure that your friends, family and neighbors will not spend eternity without God? What will you do to make sure they know about the awesome work of love that Jesus performed for them on the cross? What will you do to help break the cycle of death that has dominated human history since the fall of man in the Garden of Eden?
Clint's book Devil Walk is available for purchase here.