Of all the factors that can consistently affect our life negatively there is probably nothing more devastating than what the Bible calls a broken heart. The heart is the seat of who we are. It is the source of all abiding emotions. From the heart emerge all of life's boundaries. It is the source of understanding. The heart determines the quality of our physical health. But most importantly, it is the place where God speaks to us. All of these aspects of our life are distorted and skewed by the condition of our heart.
The symptoms of a broken heart are endless. But the following are places that it becomes most obvious.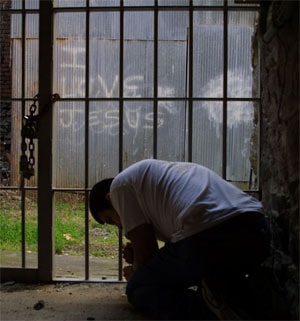 Continuous negative emotions
Codependent tendencies
Difficulty understanding Spiritual reality
Distorted view of life
Feeling like a victim
Repeated cycles of destructive behavior
Unexplained failures
Abusive relationships
The inability to feel happy, fulfilled and loved
While we could have listed many more, these are the ones I see most often in counseling and personal ministry. But the area where a broken heart tends to affect us more than any other is in relationships. The heart is the seat of love. In the heart resides the capacity to feel, receive and give love. Since love is the deepest need of mankind, this very root factor alters our entire life experience!
Heartbreak is like a self-replicating computer virus. Once it gets into the inner working of your computer there is no end to the chaos and confusion it causes. Heartbreak always starts in some aspect of relationship. And it is in relationships that it replicates, multiplies and duplicates.
The good news is, Jesus came to heal the broken hearted! In fact, the very first work of the Holy Spirit in your life is to make you whole. God wants to have a loving, trusting relationship with you. The quality of our relationships can never exceed our personal wholeness. Before becoming a servant, before diving into any of the deeper aspects of God, the starting place is wholeness. Apart from wholeness, everything you do as a believer will be tainted by insecurity and feelings of inadequacy!
In Luke 4:18-20, Jesus made this bold proclamation! "The Spirit of the LORD is upon Me, Because He has anointed  Me to preach the gospel to the poor; He has sent Me to heal the brokenhearted, To proclaim liberty to the captives And recovery of sight to the blind, To set at liberty those who are oppressed;  To proclaim the acceptable year of the LORD."   In the context of this Scripture Jesus is talking about the emotional effects of a person who has a broken heart.
There are plenty of  Scriptures that address these individual issues in a different context. For example, there are multiple Scriptures about opening physically blind eyes or getting deliverance from demonic influence. But in this passage, that is not the meaning of these references.
The poor, in this passage, are those who feel destitute. They have an abiding sense of lack! They are not in touch with God's love. They feel inadequate and ill-equipped for life. They have no sense of God's promises being sure. The awareness of their needs is far greater than the awareness of His provision. That abiding sense of lack is the result of a broken heart.
It is the sense of lack that is responsible for every temptation, every sin and every destructive behavior. The original temptation occurred only after Satan undermined Eve's confidence in God. Once she bought into the idea and feeling of lack, she began to search outside of God to get her needs met!
Captivity is a description of the circumstances of life that overtake us when we feel destitute. It is a deception that our circumstances have the power to hold us. We feel that we have no choices. Our life seems limited.
Isaiah 42:7 shows us that captives sit in the prison houses because they have no light. They do not see things as they really are. Darkness occurs in the absence of light. When people do not know and believe the truth they are in captivity, not because the enemy is powerful, but because they do not see things as they really are.
The phrase recovering sight to the blind is such a wonderful concept! People become blinded by the darkness. Their circumstances dictate their sense of reality. They need to recover sight! They need to see things from God's perspective. In Mark 6 we have the story of Jesus feeding the multitudes with five loaves and two fish. In this story we see the true meaning of recovering sight!
Jesus, as a man tempted in all ways like we are tempted, had to have been momentarily blinded by the circumstances. He looked at His resources and He looked at the incredible demand and based on a natural view, it looked hopeless. But He modeled what we should do when circumstances begin to overtake our life view.
In Mark 6:41 it says, And when He had taken the five loaves and the two fish, He looked up to heaven, blessed and broke the loaves… In the Greek the phrase here is the same as the phrase in Luke 4. It actually says, "He recovered sight." Instead of being blinded by the circumstance, He turned to God and recovered sight from God's perspective. The moment He recovered sight He was able to bless (speak favorably) over the circumstances, thus creating the desired end.
Then it says He wants to set at liberty the oppressed or bruised. Every "hit" we take has the potential to leave a bruise, a place that restricts freedom of movement. In fact, a bruise restricts the life-giving flow of blood that brings about healing.
In psychological terms this would be a "stuck state." A stuck state occurs when we experience an irresolvable emotional trauma. Many of life's major hurts occur at a time that we are emotionally or intellectually incapable of dealing with the pain. When this happens we tend to "stuff the pain," we never resolve it. Even though we may bury that pain so deeply that we never think of it, it still affects our life.
If a child is molested and that pain/bruise is never resolved, it will cause cause difficulty in that area of their life forever. They may grow academically, socially and in all other areas, but every time there is an opportunity for intimacy we revert back to the influence of that trauma. Many times we find ourselves dealing with unbearable pain with the emotional resources of a ten-year- old or whatever age the trauma occurred.
But last of all, Jesus said He wanted to proclaim the acceptable year of the Lord. All scholars agree this is referring to the year of jubilee, the year all debts are cancelled. In the Old Testament the year of jubilee was when all financial debts were cancelled. It didn't matter how you got the debts, whether they were from mishandling money or circumstances beyond your control, they were cancelled.
Jesus wants to free you from your emotional debt. You may deserve the pain you feel. You may have been the cause. That doesn't matter. God wants you whole and you cannot experience wholeness with a lifetime of emotional debt.