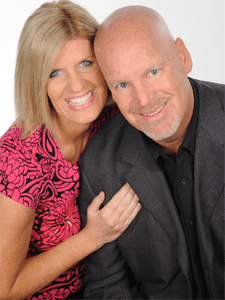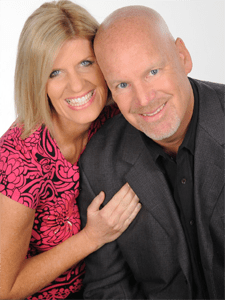 GLORY: "When God's view and opinion of you becomes your reality" ~Jim Richards~
Seeing myself the way Jesus sees me as completely loved, radically forgiven, and fully accepted has not always been my reality. In fact, after what I did, I saw myself as a huge disappointment, disqualified, and a picture of failure and humiliation to the body of Christ. Not exactly glorious…but thankfully not the end of my story. Here's what happened:
Living the Picture-Perfect Life
Bob and I got married young in 1984. We both love people and our goals reflected this as we immediately entered into full time ministry. Three kids were born by the time I was twenty six years old and we were crazy about them. Fast-forward seventeen years. The kids were fifteen, twelve, and ten years old and we lived life extremely busy doing good things.
Bob and I worked together in my parents' television ministry. I was host of a daily news-magazine television show and we pastored a church together, as well. I wasn't angry at anyone and I enjoyed our family and friends. I had a strong moral upbringing and came from an exceptionally happy family. God was extremely important to me and I would describe my relationship with Jesus as daily, real, and growing.
Performing and Pretending
I spent my entire life learning the art of performance and always choosing to do the right thing. When Bob and I first got married there were times that he disappointed me and even scared me. Instead of confronting the situation: nagging him or communicating my frustration, I would simply deal with it internally and choose to "forgive" him. Meanwhile, he never knew what I was going through and the growth of our relationship was stunted by my fear of not being loved. This dishonest behavior multiplied by seventeen years of marriage set me up for some deep-seeded resentment.
We had chosen to pioneer a church that, at the beginning, brought excitement, energy, and purpose to our already busy lives. We volunteered not only hours upon hours of our time, but spent a startling amount of creative passion in hopes of growing a huge work for God. Over the years, even though there were people who loved our church, others were disappointed and I took this very personally. I didn't see the growth I was hoping for and I condemned myself that I wasn't doing enough, or I wasn't good enough, smart enough, or gifted enough. I was disappointed in God, wondering why He didn't deem us worthy to make us more successful.
I was overwhelmed and exhausted. I was pouring out, giving to everyone who needed anything, and there was nothing left. I didn't like my life and felt lonely and misunderstood. Bob loved the church so I couldn't bear to tell him or anyone else how much I hated our lifestyle. This was all a huge inner secret beneath the constant smile on my face.
How Does a Good Girl Get into Deep Trouble?
I stuffed all feelings of resentment and chose to continue to give. I was so tired of doing the "right" thing and being so dang responsible. Inside I was screaming for attention. It was during this time that someone walked into my life. He had a broken heart and wanted fun, and so did I. With mutual brokenness we began to feed off of each other. He noticed me, appeared amazed by my noble and giving lifestyle, and was intrigued by my personality. This made me feel valuable and irresistible. And to top it all off, being alone with him was forbidden, and this heightened my sense of adventure and risk.
The friendship turned sexual and I found myself somewhere I never thought even possible — in a full-fledged affair. I loved my husband and kids. I never wanted to lose my family. This selfish choice went against everything I believed. I quickly ended the relationship and confessed my infidelity to Bob. The repercussions of pain for both of us were excruciating.
Two weeks later we discovered the news that I had become pregnant during the affair. Hopelessness and despair overshadowed me. The other man was biracial and the baby would not look like the other children. Now my secret would be obvious for the world to see. The depths of despair resulted in hopelessness, and because of my hopelessness, I was tempted to take matters into my own hands, thinking abortion would be the answer. After resisting that temptation I desperately cried out to God: "If You love me You will give me a miscarriage." God, in His deep love for me, never answered that prayer – for which I am eternally grateful.
With God All Things are Possible
Both of us were extremely scared of what our future would hold as we went to the hospital to deliver the baby. God's presence was amazing when our eyes met this perfect gift…our son. My husband gave the baby boy his own name, vowing that he never wants his "Robert" to ever wonder a day in his life who his daddy is.
The journey of forgiveness came in layers. It wasn't instantaneous, and Bob will tell you himself that he pushed me away and punished me for a period of time. But God captured his heart and loved him, and then he was able to love me.
Even though Bob and I had worked through layers of forgiveness, it wasn't until years later that I began to realize I hadn't forgiven myself. As a leader in television and churches, the general public knew who I was and I could feel the shame of people judging me and labeling me as a woman who didn't deserve anything good to happen to her. I agreed with them. My selfish betrayal caused excruciating pain to others and myself, and it never should have happened.
Facing Buried Pain
I thank God that one night I came to terms with the grief locked inside of me and I agreed to see myself as He did: beautiful, loving, and forgiven. My life has totally changed since that moment. Instead of being a victim, labeled and ashamed, I was transformed into a person who can help others understand that their mistakes do not define them.
Jesus took every bit of punishment that I deserved on the cross. He paid the price and bore the penalty. And because of His indescribable expression of love for me, I could be free to love, be loved, and forgive myself in order to be in agreement with Him. It's taken me all of my forty six years of life to begin to fathom what Jesus really did for me on that cross when He died for me…and I'm just tapping the surface!
God used Heart Physics during that time to establish His love and forgiveness for me. Christ in me is my confident expectation that His view and opinion IS my reality. Knowing that I'm forgiven and writing that truth on my heart has been the secret key to being able to forgive myself. There was no excuse for what I did, and as a result I could have cowered into a depressed state for the rest of my life. Instead, I discovered extravagant love.
The Message of Hope
So many people live everyday life with thoughts of regrets, wrong choices, and life-altering mistakes. As World Changers, let's help others find the courage and faith to move out of their past and embrace a new future of laughing easily and dreaming again. Every person, no matter who they are, has the opportunity to love life and be free to love themselves.
You have a beautiful story to tell. You were created as a gift to this world. The choices you make to accept yourself, love yourself, and forgive yourself will pave the way to enjoy life to its fullest and find your smile once again.
---
Copyright © 2012 Audrey Meisner. Used by Permission. All rights Reserved.
www.newday.org